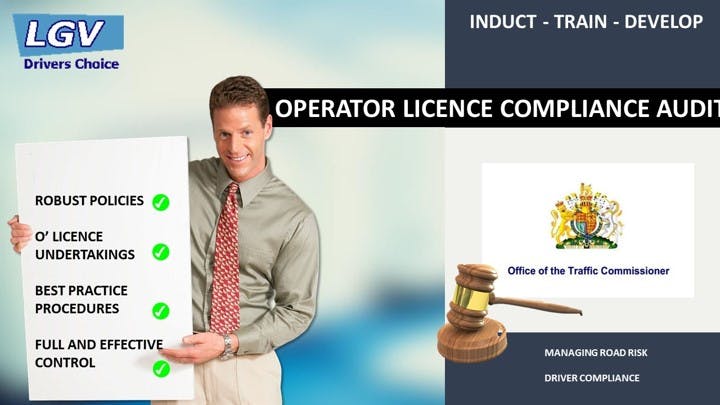 Operator Compliance Audit
The future of any organisation is too important to leave to chance.  Effective Goods Vehicle Operator Licence compliance management is the cornerstone that underpins the required elements of a successful transport organisation.
Over time, your compliance management should be independently audited.
Our audit covers all areas listed in your undertakings 
Section 1 – OPERATOR LICENCE
Entity - Financial Standing - Notifiable Changes - Appropriate Licence - Conditions or Undertakings on the Licence - Operating Centers - Number of Vehicles and Trailers authorised on the Licence - Vehicles Specified – 'O' Licence Vehicle Identity Discs
Section 2 – TRANSPORT MANAGER OR RESPONSIBLE PERSON
Continuous and Effective Management and Control of the Transport Operation 
Section 3 – VEHICLE STANDARDS
Maintenance Facilities and Technical Staff - Maintenance Contractors - Prohibition or Safety Critical Defect Investigation - Forward Planning - Inspection Frequency - Safety Inspection Documentation - Walk Around Checks - Driver Defect Reporting - Annual Test Results - Tachograph & Speed Limiter Equipment
Section 4 – DRIVERS' HOURS
Working Time Systems and Monitoring - Return of Records - Downloading of Driver Cards - Downloading of Vehicle Units - Tachograph Analysis - Infringement Reporting -
Speed Limit Compliance - Keeping of Records - Tachograph - Driver and Company Card Management – Scheduling
Section 5 – OPERATIONAL MANAGEMENT
Vehicle Excise Duty - Vehicle Weight and Height Compliance - Load Securing and Equipment -  Specialist Equipment or Loads - Management of Non-O Licence Vehicles and Equipment - Agency Drivers - Sub-Contractors Hauliers - International Operators and Cabotage
Section 6 – DRIVER MANAGEMENT
Driving Licence & Driver Certificate of Professional Competence (CPC) Monitoring -Driver Pay and Incentives
Section 7 – TRAINING AND DRIVER BEHAVIOUR
Driver CPC Training - Other Relevant Driver Training and Engagement - Driver Behaviour - Other Operational Staff Training
Section 8 – DRIVER RELATED POLICIES
Drink, Drugs and Driver Health Policy - Mobile Device Policy - Fitness to Drive + More
THIS LIST IS NOT EXHAUSTIVE    
The role of internal audit is to provide independent assurance that a transport operators maintenance systems, procedures and internal control processes are operating effectively. LGV Drivers Choice Ltd have a professional duty to provide an unbiased and objective overview. From a Restricted to a Standard International Operator Licence holder, an independent audit of all areas of Operator Licence Undertakings is highly recommended on a regular basis.