Route to Compliance
Our Training and Compliance offering is full of concurrent resources for a logistics/transport operation.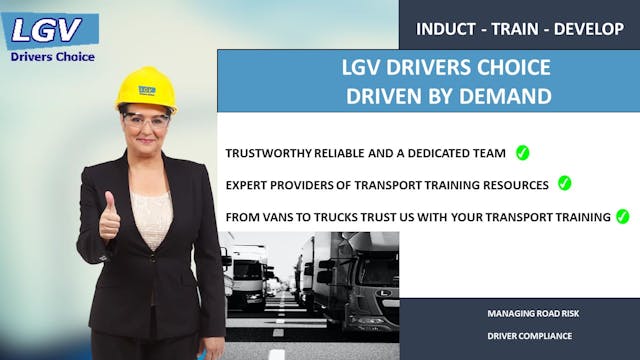 Our aim is to provide all the right resources, ready to use on demand for a transport operation.
For a monthly subscription fee, our services offer you full access to a comprehensive online driver induction and ongoing compliance program as well as a host of Safe Working Practices (SWP's) and other transport related documents, all designed to keep your transport business safe and compliant and allowing you to demonstrate full and effective control over the transport operation.
All training is tracked and recorded and records of training can be produced for DVSA or FORS auditing purposes at the click of a button.
Save time, money and frustration by signing up now and begin utilising our vast library of relevant information.
What is included in the Compliance Package?
Unlimited use of the Compliance Package which includes an introduction, followed by 8 modules containing key stages of compliance information ,plus video resources viewable on computer, laptop, tablet or phone.
Use as a new Driver Induction or for existing drivers then follow up with regular refreshers when needed
A recordable system to show training undertaken, records are logged on a driver's individual profile.
Schedule training on a regular basis direct to your driver's computer, laptop, tablet or phone 
Free automatic, legislative updates- keep ahead of Brexit and structural changes to our sector.
Speeding Awareness Course.
Tachograph Infringements disciplinary and re-training process.
Safe Working Practices.
A bank of transport-related policies and procedures designed around managing your Operator Licence, FORS (Bronze Level) and other ongoing additional training requirements.

Separate Offer From Main Compliance Package
Access to On-Line Driver CPC eLearning if you join our Driver CPC Consortium - (Conditions Apply).
Bespoke - include your Company logo and colours, your own photographs and choice of narration characters, please contact us for development quotation.
AREAS COVERED IN THE COMPLIANCE PROGRAM